After working for more than four years at Microsoft in Redmond, I decided to return to my hometown in Kolkata, India. My sister and brother had also recently finished their studies at CMU and UIUC respectively, and we all eventually joined our father in his manufacturing business.
After working with him for about a year, we realized that a lot of time was being wasted handling orders and related communication. Customers were constantly emailing or calling for updates on their orders, while our sales and office staff had to keep checking with the factory to track the orders, and so on. We tried to find a software solution to ease this problem but mainly found results for eCommerce order management.
ERP software seemed like a good choice, but it wasn't user-friendly for office or sales staff to use, and wouldn't capture the complex details of orders. We even tried using Google Sheets, but it became hard to manage over time, and it wasn't possible to control user access on different fields.
After talking to more companies about the problem, it was clear that we had to come up with a solution and that's when we decided to launch a start-up focused on building a cloud-based order management solution that would address these persistent issues. Here's what we set out to achieve:
A clean and easy-to-use customer portal for customers to place and track orders.

Capture orders in a detailed manner with support for complex packaging and units, multiple currencies, different price lists and order processes for customers, item and order level custom information, volume pricing, etc.

Automate communication within the company as well as with the customers. Strong access control to share the required information only.
It wasn't easy going, but we were determined to develop a comprehensive solution. We used our own funds and worked tirelessly to build a cloud-based order management solution. Initially, it was just the three of us but gradually we hired a few employees. Our goal was to build a tool that is easy to adopt, and that can be customized easily to fit the varying needs of manufacturing businesses.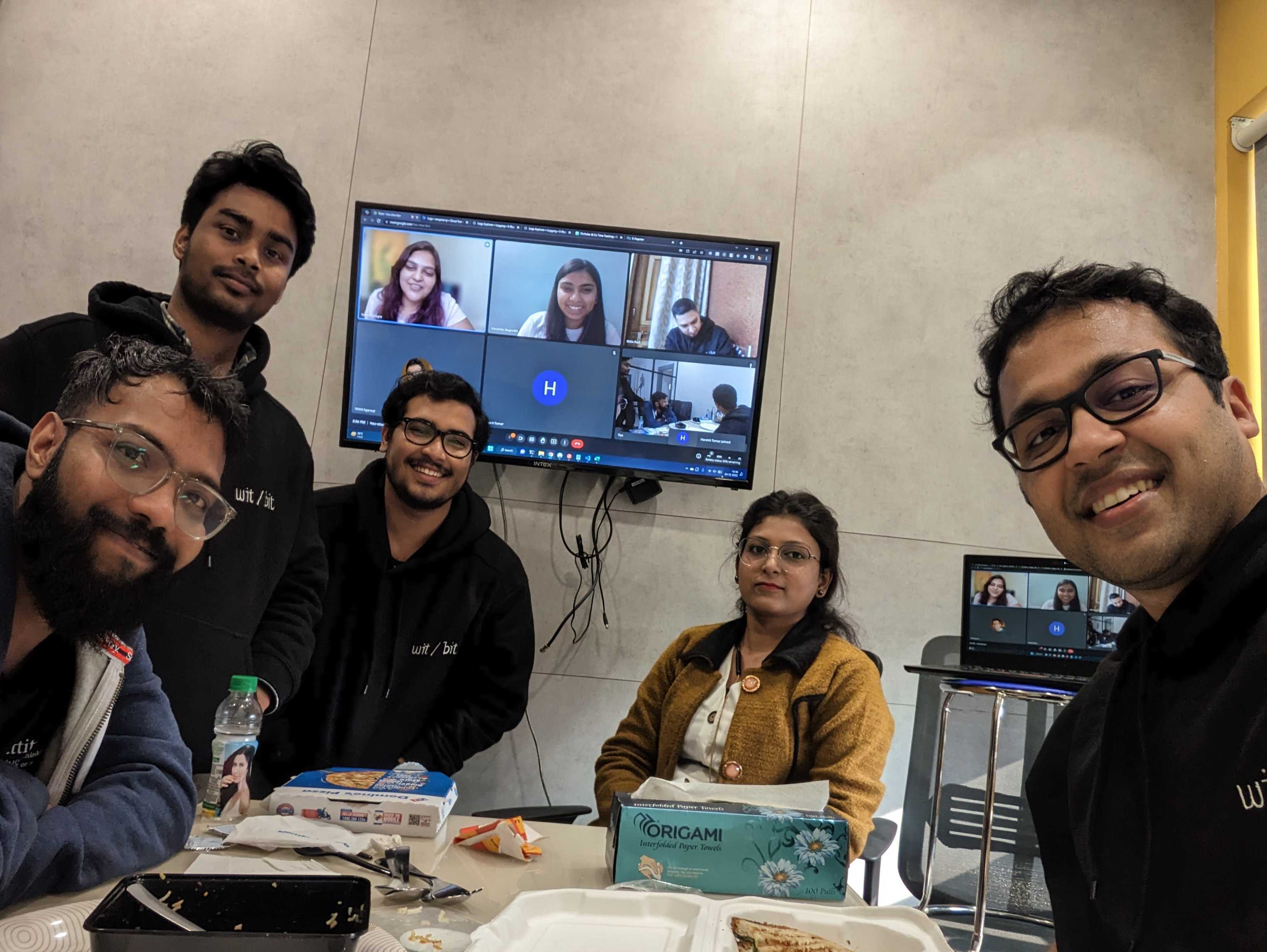 Decorum's team in December 2022
But, only after we dived into solving this problem, we realized how complex it really is. For example, it took us several iterations over a year to take care of various options for units and packaging. We couldn't find another software that took care of all challenges with units, but it was very important for us to handle this correctly for the ordering process. We built every feature with great care and thorough thinking and made sure that it could be integrated with accounting software via direct API or built-in support for ERPs such as SAP Business One or Tally.
We were fortunate enough to find early customers who provided valuable feedback and helped us add even more value to our platform.
One of our customers, in Kolkata, India, was tired of processing orders manually and was losing a lot of efficiency because of communication gaps between multiple factories, offices, salespersons, and customers. Once Decorum was implemented, they got rid of more than 200 daily calls, received great feedback from their distributors, and saw communication gaps disappear. We integrated it with their accounting software to prevent any duplicate data entry. They have around 1000 distributors, and we were able to handle all of them with ease, thus giving them more time to focus on their core business operations.
Another customer is a company in Mumbai, India that focuses on soil reinforcement technology with several international customers. They wanted to streamline the order execution within the company as well as make it easy for their customers to send their orders via an order portal. They were already using SAP Business One ERP as well as a CRM but their order management problem remained unsolved. They considered building a custom solution but that didn't turn out to be a viable option. This is where Decorum came in, and now they have been using it for more than 2 years to the great satisfaction of their customers, employees, and management.
In fact, one of their primary customers from North Carolina in the USA ended up becoming a Decorum customer after using the order portal!
Our vision however didn't end with order management. We wanted to connect some more critical dots for the manufacturing companies and after talking to our customers, we realized that one of the biggest pain points was CRM. They could not track items accurately in the CRM or convert an opportunity to an order without some customization, places where Decorum already shines.
In a matter of months, we built a CRM across Web, iOS and Android which handles leads, opportunities, activities, orders, tickets and more. Just last year we managed to replace Salesforce for a major client already using Decorum and we received great feedback from their sales reps globally.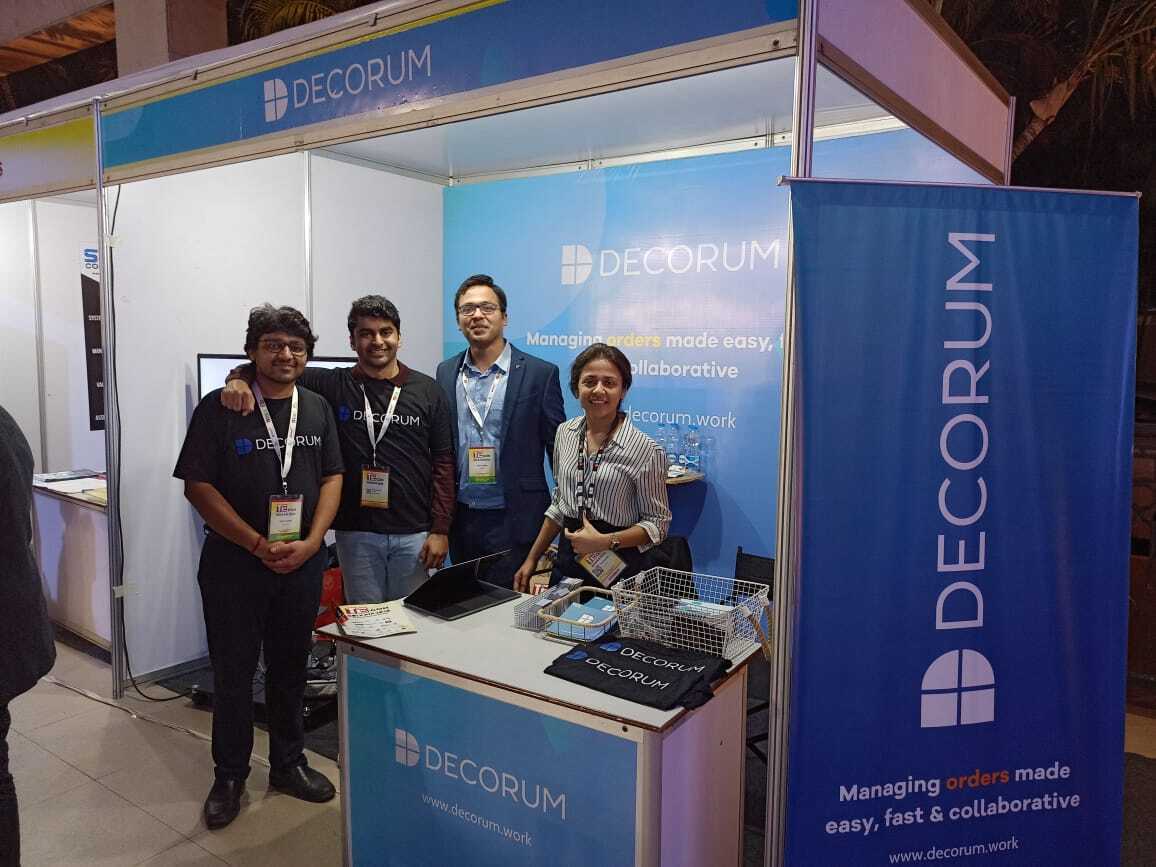 Decorum at TiECON (Kolkata) in January 2020
The name 'DECORUM' came when we once internally abbreviated our goal as DCORM which stood for 'Distributor', 'Customer', 'Order' and 'Relationship' 'Management'. The acronym was very close to the English word Decorum, which means etiquette or protocol, fitting in beautifully with what Decorum is out to do.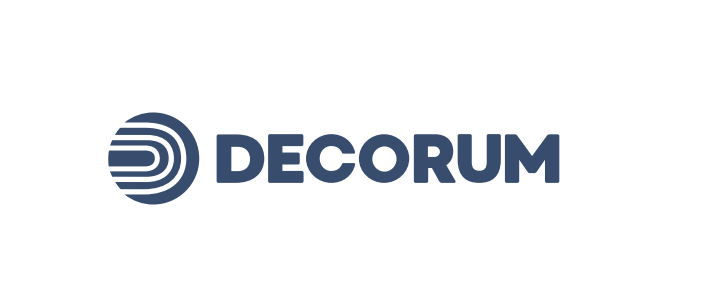 One of our many logo iterations that was rejected internally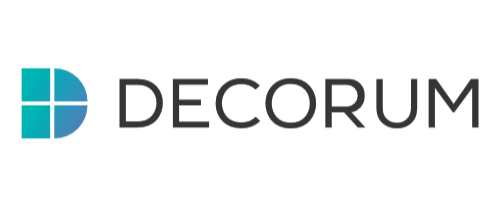 The logo that made it!
If you're interested in learning more about us, check out our website or message me on LinkedIn. We'll be happy to chat and provide you with more information on our journey and how we're revolutionizing order management in the B2B manufacturing space!